MASCOT HOTEL for WOMEN - SKALA ERESSOS

Welcome to the Mascot Hotel for Women in Skala Eressos!
For those of you who want a touch of class and a home away from home, this is the venue for your holiday with us in Skala Eressos. The Mascot Hotel is a very popular hotel for women and offers the highest standard of accommodation for women available in Skala Eressos.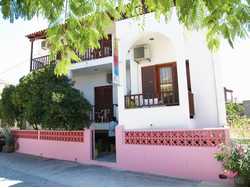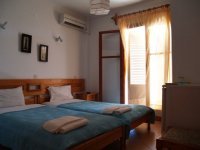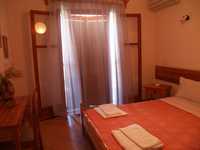 Located just three small streets away from the beach and main sea front here in Skala Eressos, you will find the most cozy hotel in the area. The ten rooms here all have good sized private balconies with table and chairs, private bathroom with shower, toilet and sink unit, air-conditioning and direct dial telephone.
Each room also has a designated individual safety deposit box located in the reception area.
The hotel has double, twin and single rooms available and every morning you can enjoy a wonderful continental breakfast  in the hotel breakfast room, with fresh filter coffee or tea and juice.
This is definitely a 'No Stress' zone and your holiday is made even more special by the hotel hostess Sofia, who will make sure your room is comfortable and is on hand to offer information on the local area and the island. She will be there to meet you and say farewell, to make sure you have everything you need to make your stay as comfortable as possible.
Special Occasions can also be celebrated, at an additional charge, with a champagne breakfast delivered to your room. Or maybe you prefer flowers and chocolate. A honeymoon room is available as well, so if you really wish to celebrate your special occassion in the Mascot Hotel, don't hesitate to ask us for more information!
If you're looking to enjoy a little lazy luxury in Skala Eressos ... this is your opportunity!
Breakfast is included in the price (Note: except in April and October). Check our lowered rates for the period: 01/04 - 15/6/2012!
Description and photographs copyright © Sappho Travel 1999-2012